Ceiling Cloth Hanger Vijayawada Call:09290703352
Ceiling cloth hanger Vijayawada dealer is an well established entrepreneur of ceiling cloth hanger in Hyderabad. They established their services of ceiling cloth hanger in Vijayawada.
Ceiling Hanger Models

:
Cloth Drying Hanger Function and Available Sizes

:
Our hangers are easy to operate, each rod pull down system.
Available in sizes of 4 feet, 5 feet, 6 feet, 7 feet, and 8 feet.
Each set contains 6 rods, good quality nylon rope, two wall patties, and one wall stopper to hold nylon rope.
Ceiling Cloth Hager Benefits:
Using of heavy duty stainless steel pipes, which ares highly tolerable towards heavy wet clothes.
Our hanger can accommodate more drying space in less area, which is a perfect for your ceiling.
As our conventional cloth drying system your clothes are damaged in life span and color by the excessive exposure to direct sun and dust.
Our indoor cloth drying system enables the drying of your clothes using the ceiling temperature in turn protecting its color.
As your convenience our models will come in different comprising 2 rods set, 4 rods set & 6 rods set, individually can operate drying system.
Space between individual rods allow smooth air flow between lines of clothes and reduces fungus to form to your clothes from smell.
Can dry your clothes in step manner to dry fast your clothes.
Our hangers are premier type quality, which is having long-life.
Our hanger is user friendly, by using it you can reduce the reduction of carbon foot prints and indirectly you saves the energy resources like electricity.
Price List For Ceiling Cloth Hanger in Vijayawada:
5 feet x 6 lines = Rs.2600
6 feet x 6 lines = Rs.3000
7 feet x 6 lines = Rs.3300
8 feet x 6 lines = Rs.3500
Note: Price include material, fixing of ceiling hanger.
Call us for site visit and door step service of ceiling cloth hanger repair and services like rope change in Vijayawada and any other type of service anywhere in Vijayawada. Visit us on:  ceilingclothhangervijayawada.blogspot.com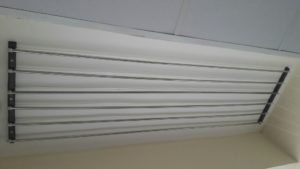 Ceiling Cloth Hanger Vijayawada Address:
Pulipati Vari Street,
One Town, Vijayawada-1
Contact: 09290703352/08309419571