Ceiling Cloth Drying Hanger 6 feet 6 rods just Rs.2400
As a matter of fact worth of Rs. 3000 for just Rs.2400
Moreover doorstep service.
Important to realize good quality stainless steel pipes.
Particularly good nylon rope for more life span.
At the same time easy to hold stopper to hold nylon rope.
Forthwith same day installation.
Different from routine plastic patties with wheels we have metal patties.
Surprisingly free installation.
Comparatively best ceiling cloth hanger in Hyderabad from others.
For the most part we have best ceiling cloth hanger dealer network in Hyderabad to serve you better.
In brief we can provide installation of ceiling hanger anywhere in Hyderabad.
In the long run you may need ceiling cloth hanger rope change or ceiling cloth hanger service, we do service for ceiling hanger rope change.
Overall call us on 09290703352 for site visit.
Ceiling Cloth Drying Hanger 6 feet 6 rods just Rs.2400 – What You Get For Rs. 2400/-:
Ceiling Hanger Set of each rod pull down type including:
6 feet x 6 rods stainless steel pipes.
One wall stopper fiber.
Two ceiling patties fiber.
nylon rope.
Including Installation of ceiling hanger.
One year free service for any type of problem.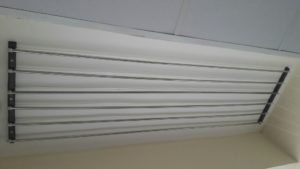 Price List For Ceiling Cloth Drying Hanger
5 feet x 6 lines = Rs.2200
6 feet x 6 lines = Rs.2400
7 feet x 6 lines = Rs.2600
8  feet x 6 lines = Rs. 2800
Frequently Asked Questions From Customers:
Q.  What type of pipes will use in your hanger, stainless steel or powder coated?
A.  Obviously we use stainless steel pipes.
Q.  What is life of nylon rope?
A. On the whole life of nylon rope is 2 to 2.5 years.
Q.  In online showing price is very less, why you are saying more?
A.  In brief, online eCommerce websites they sell only material, they do not have installation and after sales service of product.
Q.  How much time it will take to install new ceiling cloth hanger?
A. Altogether it will take only 1.5 hour to 2 hour to install ceiling cloth hanger.