Call 09290703352 For Balcony Invisible Grill Hyderabad, Looking For A Right Solution to both Beautify and Safeguard your house? Call Us Now! Our Brand is SafeSpace Invisible Grill. We also deals in cloth drying hanger in hyderabad.
Firstly, We maintain high standard quality products.
Secondly, We are always pay attention to understand customer requirements and price is one of the most important factor.
Thirdly, Modern Designs that enhance your space more panoramic and highly secured.
Moreover we offer:
In particular superior workmanship
Generally Free On-Site Quote.
Warranty Provided.
Own Skilled Installation Team.
Lowest Prices.
After sales services.
Friendly and Reliable.
Value Customer Relationship.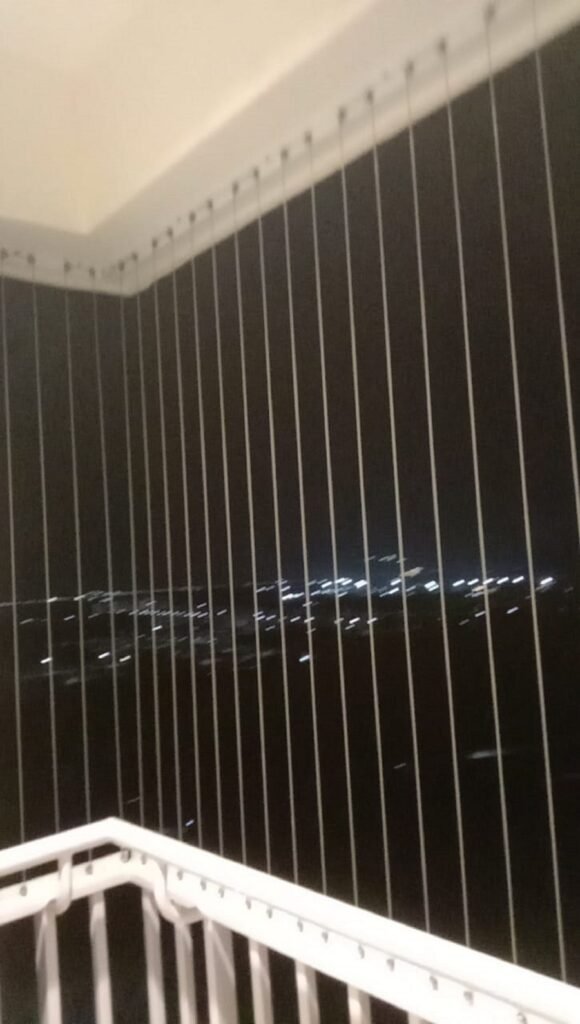 Balcony Invisible Grill Hyderabad
Balcony Invisible Grill Material Specifications:
​As a matter of fact, s

tainless steel 316 grade of marine quality with high tensile of 430 tensile strength and top quality branded fasteners and accessories.

Addition, We can make custom gap intervals of our invisible grills.
Invisible Grill Hyderabad Where You Can Use:
High Rise Flats Or Villas.
School Safety.
Hospital Safety.
Star Hotels.
Luxury Shopping Complexes.
Moreover Features Of Invisible Grill
Safe: For instance material made up of top-quality stainless steel cable, coated with nano-technology membrane for resistance to wear and tear.
Modern Design:

Likewise Stylish window design that gives you a panoramic view without affecting the general appearance of your home.

Durable:

In the meantime resistance to rust and dust, easy to maintain.

Price: The cheapest in Hyderabad.
Customizable:

Fits all windows and balconies of all sizes

Better Unobstructed View: All you to maximize natural light and airflow.
VIEW OUR WORKS:
Furthermore, balconies, living rooms, bedrooms to commercial settings like meeting rooms and building facades, our invisible grilles can be found in a wide range of settings. Safe and secure, yet aesthetically pleasing, IGC's invisible grilles are the perfect accompaniment to every space you've got, including:
– Private apartments
– Landed homes
– Offices
– Commercial units
…and even the homes of your pets
Prestigious Clients in Hyderabad:
My Home Vihanga, Block III, Flat#1106
My Home Mangala, Block VIII, Flat#602
My Home Vihanga, Tower 9, Floor 20, Flat#9202
United Avenues, Block C, Flat #305, Narsingi.
ARE YOU IN DILAMA TO KEEP INVISIBLE GRILL OR NOT!
Additionally, here We Will Clarify Your Doubts Through Our Knowledge To Help You Out To Make Decision.
What is Invisible Grille?
Compared to traditional iron grill it is very less weight and easy to install.
For the most part an Invisible grill is a stainless steel cable that is used to enclose balconies and windows and esure safety.
Neither invisbile grille hardly be seen from a far and are generally replacement of traditional old MS grills.
Ordinarily they do not interfere with the aesthetics of your space.
Not to mention don't restrict the view of building.
On the other hand Transform your balcony into a shaded heaven
For example create the look you always wanted for your home.
Lastly, Solid Seamless Invisible Look.